The "Venturepreneurship Aula", a series of events that we organize together with the Center for Entrepreurship of the University of Graz, was entirely dedicated to corporates and their relationship to startups. How do large companies innovate, do both sides benefit from each other and does cooperation make sense? More than 200 visitors came to the auditorium of the University of Graz.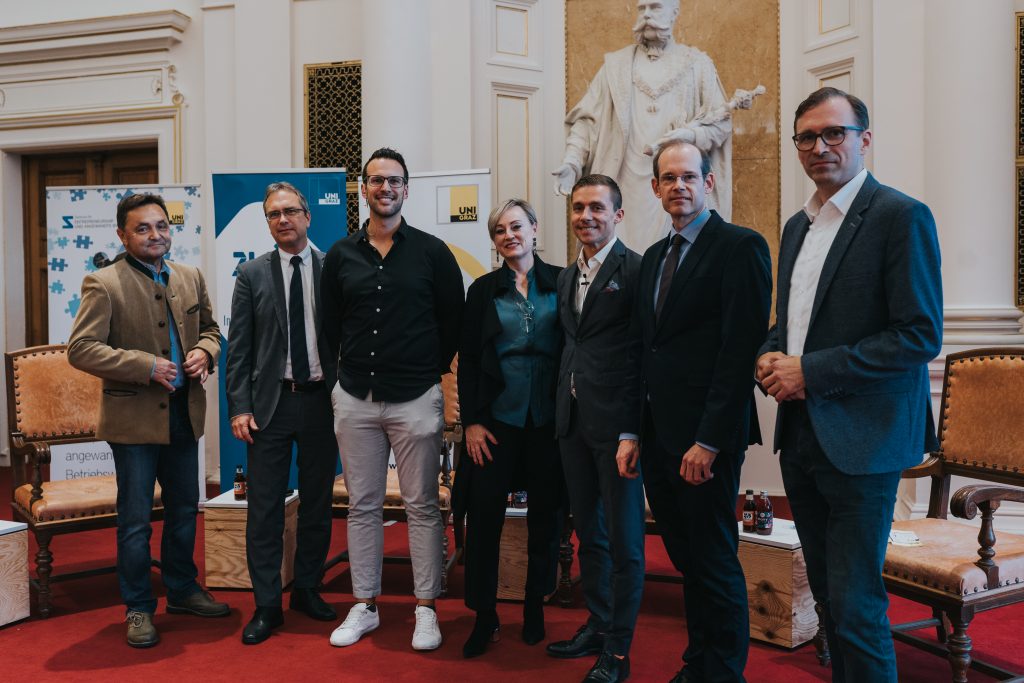 After the welcome by Vice Rector Peter Riedler and Bernhard Weber (Managing Director ZWI) Tobias Gutmann, expert for Corporate Venturing at HHL Leipzig, gave a short overview of how the innovation challenges for large companies are changing and how the cooperation with innovative start-ups is seen. This keynote was the occasion for an exciting panel discussion with Tobias Gutmann, Helmut Wöginger (Andritz AG) and Johannes Müller as well as Kristin Hanusch-Linser (both techhouse). Sukkus was the high relevance of the cooperation of both groups and also the high importance of the corporate culture in this context. In the end, cooperation very often fails due to (corporate) cultural differences between corporates and start-ups.
Thanks to techhouse, Dr. Tobias Gutmann and Helmut Woeginger for the contributions on stage. There were exciting pitches from Innophore , Arivo Smart Parking and Leftshift.one, who already have a lot of experience in working with corporates as startups and gave interesting insights. This cooperation is not always easy, but is essential for startups. Therefore it is worthwhile for them to deal with the requirements of large established companies.